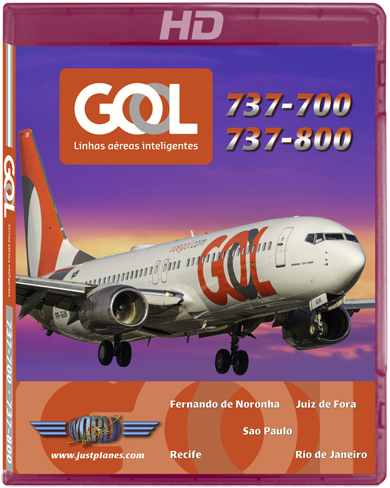 CODE : GOL2

FILMED : 2016

TIME : 278 mins

PRICE : $30
Not long after GOL, the 1st low cost airline in Brazil, launched operations in 2001 we were invited to film them when they operated just a few 737s. Today with around 130 737s in the fleet and another 130 on order we're delighted to return to Sao Paulo. So much great stuff filmed during this trip forced us to make 2 programs. The highlight of this 4 and a half hours is no doubt the flight to the beautiful island of Fernando de Noronha, a first in our series and our awesome crew who are going to show you whats its like to fly the 737 around Brazil and everything you want to know about the plane, the flights, the routes, destinations and so much more...
+ Cockpit filming using up to 6 cameras

for great views on takeoff & landing!

+ Pilot Presentations

+ Flight Preparations

+ Cockpit Set-up

+ Pilot Briefings

+ Checklists

+ Depature & Arrival Airport Charts

+ Cockpit Presentation

+ Great Scenery

+ 2 new cities in Brazil (now 29 in series!)
Please be very careful when selecting which Download you order as this can NOT be changed!!!
Click here to read more about the different Download options!
Flight Information

A/C

Reg

Flight

Route

Time

Destinations

737-800

737-700

PR-GGH

PR-GIH

G3 5856

G3 2102

CGH-GIG

GIG-REC

0h43

2h34

CGH Sao Paulo Congonhas, BRAZIL

GIG Rio de Janeiro Int'l, BRAZIL

737-700

PR-GIH

G3 1844

G3 1845

REC-FEN

FEN-REC

0h54

0h52

REC Recife, BRAZIL

FEN Fernando de Noronha, BRAZIL

737-800
PR-GXN
G3 5401
REC-CGH
2h55

REC Recife, BRAZIL

CGH Sao Paulo Congonhas, BRAZIL

737-700
PR-GOQ

G3 6663

G3 6671

CGH-IZA

IZA-CGH

0h45

0h54

CGH Sao Paulo Congonhas, BRAZIL

IZA Juiz de Fora, BRAZIL