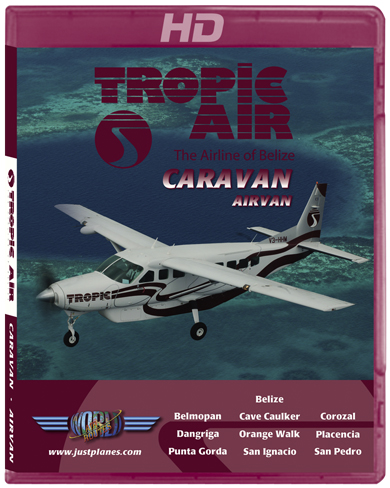 CODE : TOS1

FILMED : 2014

TIME : 210 mins

PRICE : $30
Tropic Air becomes the 257th airline to join our Cockpit series and Belize becomes the 168th country filmed! The program was filmed using multi-cameras both inside and outside the aircraft for some fantastic views starting with a special visit and fly over the Blue Hole and continuing with flights to 11 destinations around Belize. With many presentations including cockpit, walkaround, flight info, a trip in the flight simulator and so much more, you are going to discover a great airline with a perfect operation as well as a beautiful country that should make it on your list of places to visit!
Please be very careful when selecting which Download you order as this can NOT be changed!!!
Click here to read more about the different Download options!
Flight Information

A/C

Reg

Flight

Route

Flt Time

Destinations

Caravan

Airvan

V3-HHM

V3-HGZ

9N 001

9N 002

SPR-SPR

SPR-SPR

1h00

0h24

Blue Hole

Air to Air

Caravan

V3-HHM

9N 361

TZA-BZE

BZE-DGA

DGA-PLJ

PLJ-PND

0h06

0h12

0h12

0h16

TZA Belize City Municipal, BELIZE

BZE Belize City International, BELIZE

DGA Dangriga, BELIZE

PLJ Placencia, BELIZE

Caravan

V3-HHM

9N 360

PND-DGA

DGA-BZE

BZE-TZA

0h25

0h18

0h04

PND Punta Gorda, BELIZE

DGA Dangriga, BELIZE

BZE Belize City International, BELIZE

Caravan

V3-HHM

9N 290

TZA-BZE

BZE-CUK

CUK-SPR

0h06

0h10

0h06

TZA Belize City Municipal, BELIZE

BZE Belize City International, BELIZE

CUK Cave Caulker, BELIZE

Caravan

V3-HHM

9N 700

9N 701

SPR-CZH

CZH-SPR

0h15

0h17

SPR San Pedro, BELIZE

CZH Corozal, BELIZE

Caravan

V3-HHM

9N 600

9N 601

SPR-ORZ

ORZ-SPR

0h17

0h08

SPR San Pedro, BELIZE

ORZ Orange Walk, BELIZE

Caravan

V3-HHM
9N 290

TZA-BCV

BCV-CYD

CYD-SPR

0h18

0h13

0h37

TZA Belize City Municipal, BELIZE

BCV Belmopan, BELIZE

CYD San Ignacio, BELIZE