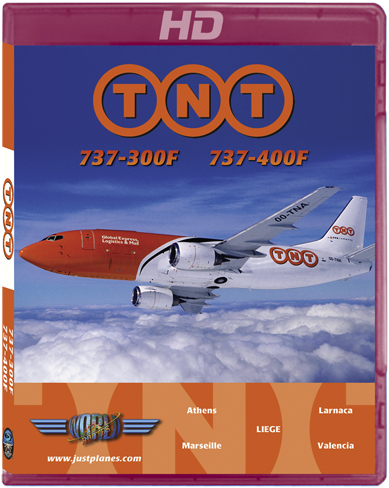 CODE : TNT1

FILMED : 2014

TIME : 212 mins

PRICE : $30
TNT Airways becomes the 254th airline to join our series! TNT operates a fleet of around 50 cargo aircraft on flights from its hub in Liege, Belgium, to destinations around the world.
In this program we feature the fleet of Boeing 737-300/400s which operate European routes. Our flights take us to France, Spain, Greece and Cyprus. During the 8 flights our pilots give continuous information about the aircraft, the route, the arrivals & departures and all associated procedures.
+ Cockpit filming using up to 5 cameras for great views on takeoff & landing!
+ Pilot Presentations
+ Flight Preparations
+ Cockpit Set-up
+ Pilot Briefings
+ Checklists
+ External Walkaround
+ Depature & Arrival Airport Charts
+ Cockpit Presentation
+ Cargo Presentation & Loading
+ Great scenery on all flights
Please be very careful when selecting which Download you order as this can NOT be changed!!!
Click here to read more about the different Download options!
Flight Information

A/C

Reg

Flight

Route

Flt Time

Destinations

737-400F

OE-IAR

TAY 053

LGG-MRS

MRS-VLC

1h24

1h05

LGG Liege, BELGIUM

MRS Marseille, FRANCE

737-400F

OE-IAR

TAY 054

VLC-MRS

MRS-LGG

0h59

1h21

VLC Valencia, SPAIN

MRS Marseille, FRANCE

737-300F

OO-TNL

TAY 065

LGG-ATH

ATH-LCA

2h42

1h14

LGG Liege, BELGIUM

ATH Athens, GREECE

737-300F

OO-TNL

TAY 462

LCA-ATH

ATH-LGG

1h26

3h00

LCA Larnaca, CYPRUS

ATH Athens, GREECE