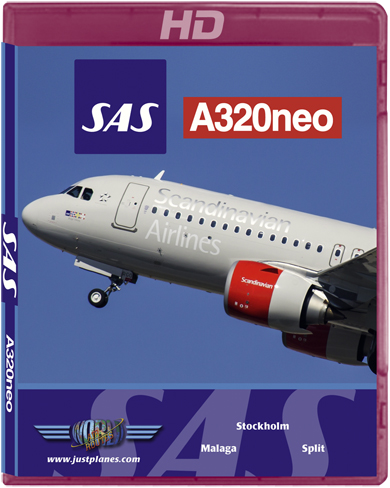 CODE : SAS4

FILMED : 2017

TIME : 285 mins

PRICE : $30
Just Planes appreciates the longstanding cooperation with SAS for more than 15 years! Over time we've filmed most of its aircraft types incuding the A320, A330, A340, MD80 and B737 and just about all the airlines that have been part of the SAS Group at one time or another such as AeBal, Blue1, Braathens, Spanair and Wideroe.
We're very delighted that SAS becomes the 1st airline in our Cockpit Series to present the new Airbus A320neo and on this nearly 5 hour film we take you inside and out of the latest addition to the fleet. Our pilots will talk just about everything you want to know on the NEO as well as present in details each of the 4 featured flights. In addition our 6 cameras capture all the action inside the cockpit and some really great scenery outside.
+ Cockpit filming using up to 6 cameras!

+ Flight Preparations

+ External Walkaround

+ Cockpit Set-up

+ Briefings & Checklists

+ Cockpit Presentation

+ Differences between A320neo & A320ceo

+ Depature & Arrival Airport Charts

+ Great scenery on departures, arrival and en route.

+ Pilot Presentations

Other SAS Cockpit Films

200mins $30

220mins $15

250mins $15
Please be very careful when selecting which Download you order as this can NOT be changed!!!
Click here to read more about the different Download options!
Flight Information

A/C

Reg

Flight

Route

Flt Time

Destinations

A320neo

LN-RGO

SK1817

SK1818

ARN-AGP

AGP-ARN

4h05

3h54

ARN Stockholm, SWEDEN

AGP Malaga, SPAIN

A320neo

LN-RGM

SK1831

SK1832

ARN-SPU

SPU-ARN

2h23

2h28

ARN Stockholm, SWEDEN

SPU Split, CROATIA