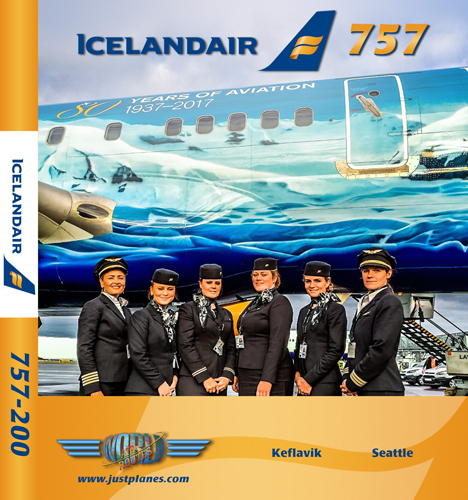 Just Planes is delighted to continue its tight relationship with Icelandair by bringing you a 5th Cockpit Film, this time we feature an all women crew, both cockpit & cabin, we feature the Icelandair 757 painted in the livery of Vatnajökull, the largest glacier in Europe, celebrating 80 years of aviation and to make this trip unforgettable we picked the Seattle route!
Captain Sigrun and First Officer Salvoer will explain in details what happens in the cockpit from the cockpit to the flight, departures & approach charts and talk about why and how they decided to become pilots. Another fantastic feature of this program is the scenery which is always great flying in and out of Iceland, flying over Canada and specially the approach and departure, we were very lucky with the runway for landing and takeoff giving you an amazing view of the city twice and an overflight of Boeing Field twice!
+ 1st ever flight to Seattle!

+ Cockpit filming using 6 cameras

+ External Walkaround

+ Flight Preparations

+ Cockpit Set-up

+ Briefings

+ Checklists

+ Depature & Arrival Airport Charts

+ Great scenery

Other Icelandair Cockpit Films
767-300
757-200
737MAX
Be careful when selecting which Download you order as this can NOT be changed!!!
Click here to read more about the different Download options!
Flight Information

A/C

Reg

Flight

Route

Flt Time

Destinations

757-200

TF-FIR

FI 681

KEF-SEA

7h06

KEF Keflavik, ICELAND

SEA Seattle, USA

757-200

TF-FIR

FI 682
SEA-KEF
6h56

SEA Seattle, USA

EWR Newark, USA