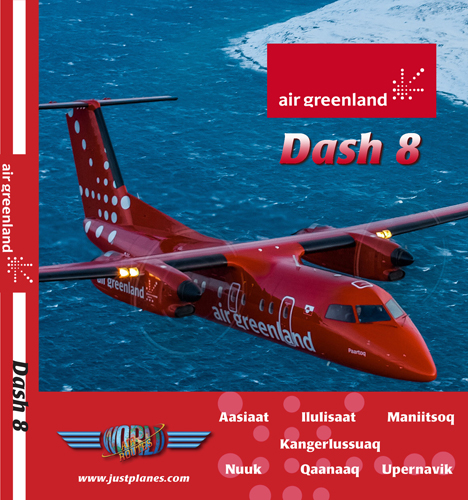 CODE : GRL2

FILMED : 2018

TIME : 267 mins

PRICE : $30
In 2003 we first visited Air Greenland to feature its fleet of A330, B757, S-61 & the rare Dash 7. Today the airline employs a fleet of Dash 8 and we're delighted to return to this beautiful country for a new film with a series of great pilots flying in a challenging environment.
+ Cockpit filming using up to 5 cameras!

+ Flight Preparations

+ Cockpit Set-up

+ Briefings

+ Checklists

+ Cockpit Presentation

+ Depature & Arrival Airport Charts

+ Pilot Presentations

+ Double Go-Around due to poor visibility

+ Fantastic scenery over the entire program!

2003 Film

($15)
Be very careful when selecting which Download you order as this can NOT be changed!!!
Click here to read more about the different Download options!
Flight Information

A/C

Reg

Flight

Route

Flt Time

Destinations

Dash 8

OY-GRO

GL 235

SFJ-SFJ

1h27

SFJ Kangerlussuaq, GREENLAND

Dash 8

OY-GRO

GL 265

SFJ-JSU

JSU-GOH

0h35

0h37

JSU Maniitsoq, GREENLAND

GOH Nuuk, GREENLAND

Dash 8

OY-GRM

GL 264

GOH-JSU

JSU-SFJ

0h27

0h34

GOH Nuuk, GREENLAND

JSU Maniitsoq, GREENLAND

Dash 8

OY-GRG

OY-GRH

GL1572

GL 204

SFJ-JAV

JAV-JUV

0h38

1h00

JAV Ilulisaat, GREENLAND

JUV Upernavik, GREENLAND

Dash 8

OY-GRH

GL 628

GL 629

JUV-NAQ

NAQ-JUV

0h23

0h31

JUV Upernavik, GREENLAND

NAQ Qaanaaq, GREENLAND

Dash 8

OY-GRJ
GL 533

JAV-JEG

JEG-SFJ

0h21

0h44

JAV Ilulisaat, GREENLAND

JEG Aasiaat, GREENLAND