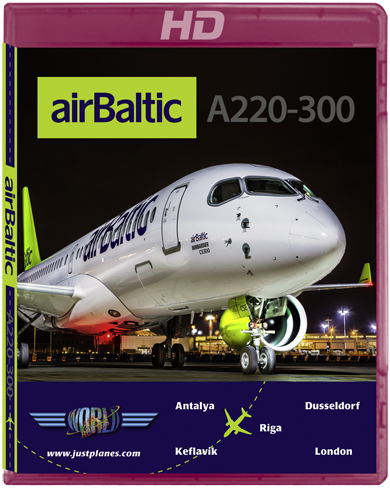 CODE : BTI3

FILMED : 2017

TIME : 282 mins

PRICE : $30
Air Baltic began operations in 1995 and Just Planes was lucky to visit and film the airline at an early stage with a fleet of Avro RJ70s and Fokker 50s ; 10 years later we returned to Riga to film the airline's fleet of Boeing 737-300s, 737-500s and 757-200 and another 10 years later we're honored to once again return to the launch airline for the brand new Airbus A220 (C-Series)!!
We're delighted to have this program hosted by both the A220 Chief Pilot as well as the Technical Pilot who will present this beautiful new aircraft in complete details inside and out!
As you enjoy all these great explanations and presentations you also get to witness 6 flights in the cockpit to some great destinations in Iceland, Turkey as well as London.
+ 1st Cockpit Film on the Airbus A220 (C-Series)

+ Cockpit filming using up to 6 cameras for great views!

+ Flight Preparations

+ External Walkaround

+ Cockpit Set-up

+ Briefings & Checklists

+ Depature & Arrival Airport Charts

+ Great scenery on departures, arrival and en route.

+ Pilot Presentations
Please be very careful when selecting which Download you order as this can NOT be changed!!!
Click here to read more about the different Download options!
Flight Information

A/C

Reg

Flight

Route

Flt Time

Destinations

A220-300

LY-CSB

BT7719

BT7720

RIX-AYT

AYT-RIX

3h04

3h03

RIX Riga, LATVIA

AYT Antalya, TURKEY

A220-300

LY-CSD

BT 169

BT 170

RIX-KEF

KEF-RIX

3h49

3h11

RIX Riga, LATVIA

KEF Keflavik, ICELAND

A220-300

LY-CSB

BT 653

BT 654

RIX-LGW

LGW-RIX

2h23

2h24

RIX Riga, LATVIA

LGW London Gatwick, UK