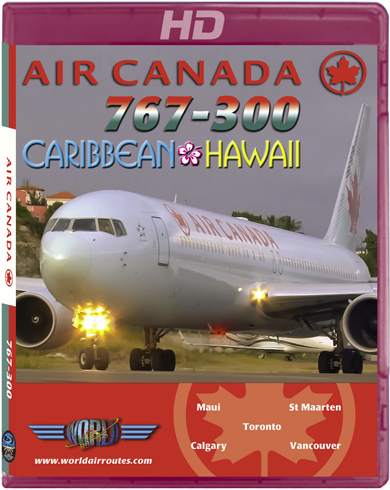 CODE : ACA11

FILMED : 2012

TIME : 279 mins

PRICE : $30
In 2009 our first Air Canada program featured the 767-300 on a flight to South America. Now 4 years and 10 programs later we return to the 767 so we can cover this airplane in Hi-Definition on Blu-ray along with cover our 1st ever cockpit flight to Hawaii! In addition we've included a flight to one of the world's favorite destinations : St Maarten!
Both Captains, which includes Air Canada's 767 Fleet Manager, along with their copilots will give you the most fantastic presentations from the moment they arrive in the office to prepare their flights to the moment their aircraft reaches the gate at the other end. Everything is explained to you in details so you can have a perfect idea of what it takes to fly a widebody over the Atlantic and the Pacific! You will enjoy approaches into several destinations filmed from fantastic angles showing both the pilots at work and the amazing scenery.
+ Cockpit filming using up to 6 cameras for fantastic views on takeoff & landing!
+ Preflight Preparations
+ Briefings & Checklists
+ Cockpit Presentation
+ ETOPS Presentation
+ Depature & Arrival Airport Charts
+ Cabin service
+ Great scenery during approaches and en route in flight
Please be very careful when selecting which Download you order as this can NOT be changed!!!
Click here to read more about the different Download options!
Flight Information

A/C

Reg

Flight

Route

Flt Time

Destinations

B767-300

C-FMWU
AC 1244
YYZ-SXM
4h17

YYZ Toronto, CANADA

SXM St Maarten, NETH. ANTILLES

B767-300

C-GDUZ
AC 1245
SXM-YYZ
4H28

SXM St Maarten, NETH. ANTILLES

YYZ Toronto, CANADA

B767-300

C-GHPE

AC 043

YYC-OGG

6h22

YYC Calgary, CANADA

OGG Kahului - Maui, USA

B767-300

C-GHPN

AC 058

OGG-YVR

5h10

OGG Kahului - Maui, USA

YVR Vancouver, CANADA